A new way to estimate fishes' birthdays
Andrews is conquering the Pacific grenadiers' reluctance to reveal their correct ages. He finds that a 70 centimeter (27 inches) grenadier can be 60 years old, which means it's a slow-growing fish.
To determine the age of this new dinner from the deep, Andrews and his colleagues use a so-called radioactive clock that was incorporated into the fish's earbone, or otolith, when the fish was born. Just as sand flows from top to bottom of an hourglass at a constant rate, radioactive elements steadily transform into other elements. In the grenadier, radium-226 which is incorporated into the fisn's otolith at birth decays into another element, lead-210. Andrews can tell how long ago the fish was born by measuring the amount of lead-210 that accumulates as the fish ages and comparing that to the amount of radium-226 that remains.
Andrews has teamed up with Pete Holden, a geochemist at the University of California, Santa Cruz, to measure the radium-226 in Pacific grenadier otoliths. It's an unusual collaboration,Holden's equipment, a thermal ionization mass spectrometer, is more typically used for aging ancient rocks. Using such mass spectrometry on fish otoliths is so new, says Kenneth Coale, a geochemist at Moss Landing Marine Laboratories, that no one has published on it. The Moss Landing group hopes to be the first.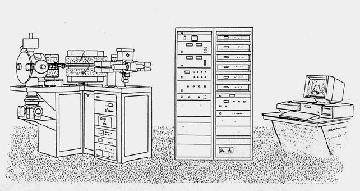 **Thermal ionization mass spectrometer.** (TIMS equipement manual Illustration)