The Dive
From recorders attached to migrating seals, we have learned that they dive for up to two hours, descending a mile. When they surface they stay up for only a few minutes before going down again. The females do this for ten months each year, which means that they spend about 90 percent of their time submerged at depths up to a mile, and with their lungs collapsed.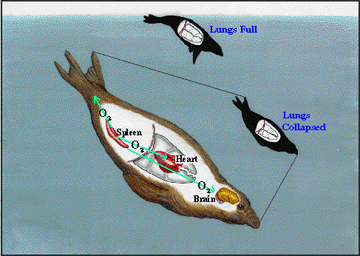 Lungs full of oxygen, an elephant seal (top) begins a dive. By one hundred feet down (right center), the animal's lungs have collapsed and oxygen has been transferred to the spleen and muscles for storage. During the dive, oxygen goes to the muscles, the heart and brain, but not to the kidneys.
See the full story for more details.
Back for previous page.