The short biography of

Christi A. Sobel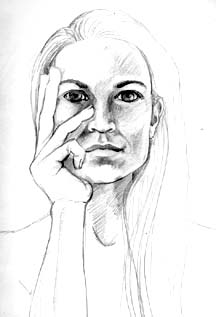 Here's a little bit about me and my art...
My hometown and birthplace is Ithaca, NY, and I lived there until I went off to college, when I more-or-less relocated to the Philadelphia area. A few years after finishing my undergrad degree in biology and studio art, I decided I wanted to follow my heart, leave crowded Philly for greener and more relaxed pastures, and go ahead and be an artist. Fortunately, it's been a successful and adventurous life, using my pen as my passport to many places in the US and soon to the world. I have recently completed a course of study in Scientific Illustration at UC Santa Cruz, and will be heading to the Royal Botanic Gardens, Kew, in London in the fall of 1998.
Education:
BS in Biology and Studio Art at Eastern College, St. Davids, PA (1989-1993), magna cum laude
Certificate in Science Illustration from University of California, Santa Cruz (1998)
I have been working as a freelance artist since 1994 (while trying to avoid being a starving artist by working just about every job in the book, like waitressing, bakeries, retail, espresso making, valet parking, babysitting, etc). However, my art has been able to support me for the most part. Some of my experiences are:
Several solo shows in the Philadelphia area
Illustrations for the book Amaranth to Zai Holes : Ideas and Techniques for Growing Food Under Difficult Conditions (which can be viewed at that site), published by ECHO (Educational Concerns for Hunger Organization), N. Ft. Myers, FL
Taught painting and drawing classes in the Central Plateau of Haiti (1996)
work for the Oregon Carex Association
Illlustrations for the Schuylkill River Canal Association, Phoenixville, PA
two gigantic murals of the local forest and pond life for Au Sable Institute of Environmental Studies, Mancelona, MI
Some of my freelance experiences:
science illustration
t-shirt design and silkscreening
posters and publicity for various theatre and dance events
jewelry
business card and logo design
And as for me, I enjoy being outdoors, travel (especially by train), modern dance, ART, music (I play several instruments, including conga and bass guitar), reading well-written books, laughing, cooking and eating curry, running, fresh bread, real conversation, and sleeping in on saturday mornings. You can find out more about my work at http://www.christisobel.com/